How I passed the PLAB 1 exam is an interview with Dr. Usman Zahid, He is one of those great minds in the Medical profession whose hard work has been paying off seriously for the past few years after his graduation from the Medical school. A few days ago he posted on his Twitter page about his success in the recently concluded PLAB one exam.
Alhamdulilah PLAB 1 Passed 😊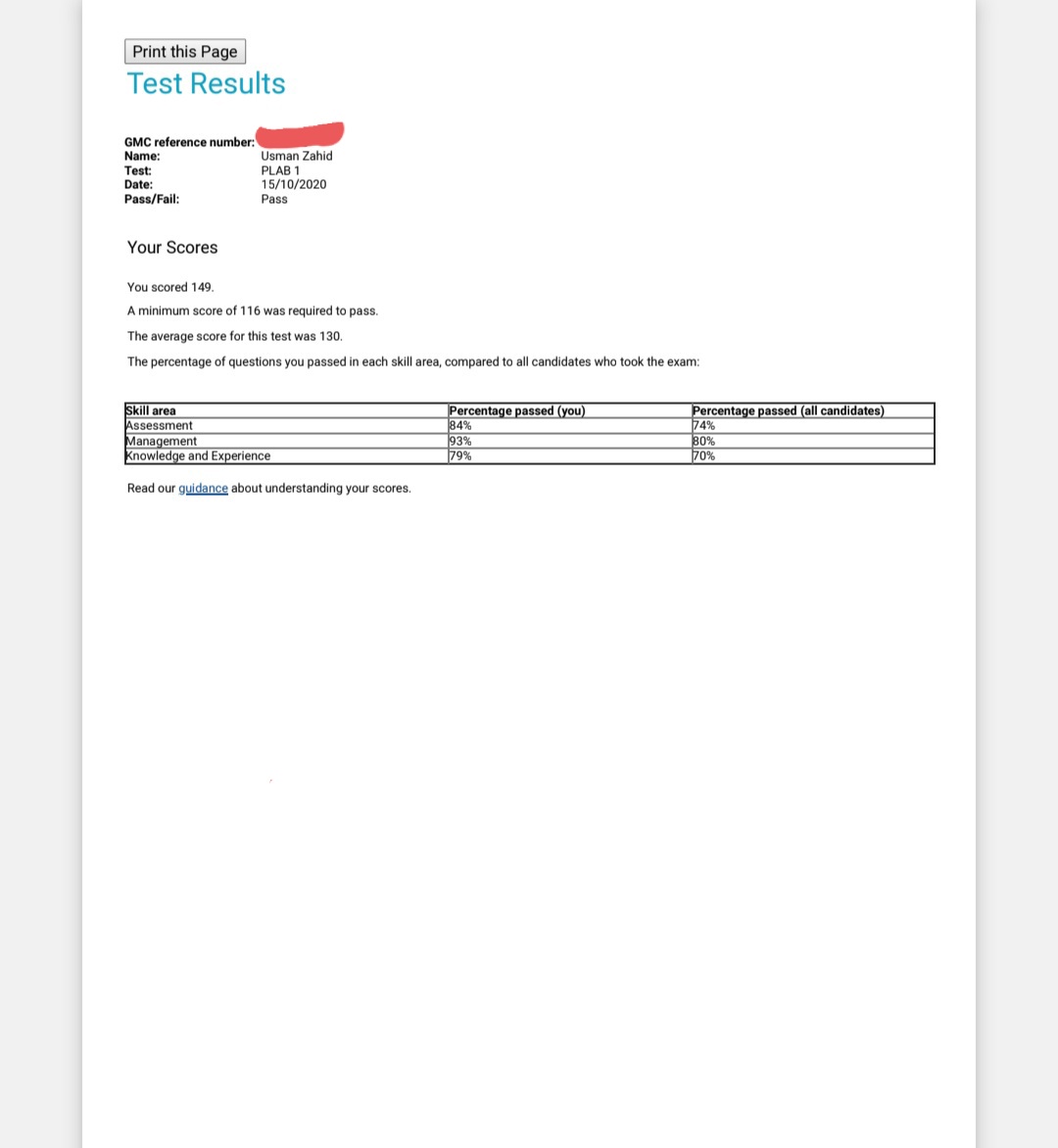 Originally tweeted by Usman Zahid (@Doc_usman_) on November 26, 2020.
It is rare to find an opportunity to interact with young doctors out there as they are one of the people with the busiest schedules you can find out there.
But Dr. Usman Zahid agreed to share his study plan for PLAB 1 in this magazine with other young doctors and Medical students notwithstanding his very tight schedule. It's really a pleasure to have him.
Table of Contents
How I passed the PLAB 1 exam: The Interview with Dr. Usman Zahid
Greetings, kindly introduce yourself to your readers
Hello, I am Dr. Usman Zahid from Mandi Bahauddin, Pakistan. I am currently working as an ED physician in a secondary care hospital. I completed my MBBS from Faisalabad Medical University (PMC) in 2018 and finished my house job in June 2019. I decided to write PLAB-1 in November 2019. I took my OET in February 2020 and appeared in PLAB-1 in October 2020.
Please can you tell us what PLAB is all about?
PLAB is a licensing exam that you have to pass if you want to practice medicine in the UK. According to GMC; The Professional and Linguistic Assessments Board test, or the PLAB test, helps us to make sure doctors who qualified abroad have the right knowledge and skills to practice medicine in the UK". This exam consists of two parts PLAB-1 and PLAB-2. Before you appear in PLAB, OET, or IELTS is a mandatory requirement.
Kindly give us an overview of PLAB 1
PLAB-1 tests your basic clinical knowledge. It consists of 180 multiple choices MCQs which you have to answer in 180 minutes (3hours). It mostly consists of clinical scenarios. It also tests your knowledge of the latest UK guidelines regarding the diagnosis and management of different diseases.
Also, Read; 12 Myths About Medical School
What was your study strategy for PLAB 1?
I devised a plan to go through the whole syllabus at least thrice. There are roughly 31 chapters that you have to cover during your preparation. I did the first read in one month, the second one in 20 days, and the last one in 10 days with dedicating at least 2 hours per day for recalls.
Which study materials did you use for the preparation? And which of them do you think contributed more to your success?
I used PLABABLE and PLABKEYS. I found them really useful. Plabkeys are basically an organized form of plababale in notes format. I must say if one wants to ace PLAB-1, then PLABABLE is the key, and it contributed a lot to my success. PLABABLE is an MCQs bank containing scenarios with explanations and summaries. I focused mainly on PLABABLE and this is why I was able to pass this exam on the first attempt.
There were 31 topics, some were long and some were short. I decided to do PLABABLE and PLAB Keys simultaneously, I used to read a topic first from plab keys and then do the same topic from plabable. The long topics used to take about 2 days to finish and the short one about 3-4 hours. This strategy helped me to finish the first read in 30 days. I did the same in the second read but now I finished the topics in 20 days. In the third read I revised only plabable without keys.
Also, Read; 6 Career questions for students before Choosing a Course to Study
Where can one get these study materials?
Both PLABABLE and PLABKEYS are available online and you should buy an online subscription. I would strongly recommend the online versions as they are updated regularly after every exam. You may find the offline versions but they are outdated and don't contain the latest guidelines.
What is your take on tutorials for PLAB 1? Did you attend any?
No, I didn't attend any tutorials, neither online nor in person. I don't think one needs to attend any tutorials to pass this exam, they are just a waste of time and money.
What were your Challenges while preparing for PLAB 1?
The main challenge was my job as I work in the emergency department so I used to get only 3-4 days a week to study. Another challenge was the repeated cancellation of the exam due to COVID-19, my exam got canceled twice, first in June 2020 and then in September 2020, and finally, I appeared in October 2020.
How did you overcome these challenges?
Well, I used to utilize my free days to the full extent, study as many hours as I can, and achieve my weekly targets. I had to sacrifice my social life during these preparation days to avoid wasting time.
In your view, how was the PLAB 1 exam (experience)
PLAB-1 was a great experience in a way that it updated my clinical knowledge which is now helping me a lot in my clinical practice. I am now fully updated regarding the management of different diseases according to the latest UK guidelines.
What was your motivation for writing Plab?
Well, some of my seniors from medical college are now working in the NHS. They motivated and pushed me a lot to write PLAB. Besides, the working environment in my country is not so great for doctors. So this is why I decided to write PLAB.
What comes next after PLAB 1?
The next stage after passing PLAB-1 is the PLAB-2 exam. It is a bit different exam compared to PLAB-1 as it focuses more on communication skills and it is conducted only in the UK. You have to appear in PLAB-2 within 2 years after passing PLAB-1.
Any general advice for medical students who want to follow your pathway?
A lot of medical students have been asking me this question. My advice to them is that just focus on your MBBS for now. There is no need to start preparing for plab from now. Start your PLAB journey during your house job by giving IELTS/OET and then immediately after house job, write your PLAB-1.
Finally, I would like to comment on IELTS/OET as they are a mandatory requirement for PLAB. People often ask me whether to give IELTS or OET, which one is better and easy. I would say definitely OET as it is easy and you can easily ace it with good one-month preparation.
In the end, I would really like to Thank Medarchive Magazine for giving me this opportunity to share my experience and thoughts with my fellows and juniors.
Also, Read; What is the best music for focus and concentration while studying?
You May Also Like: